setembre 4, 2015
The seeds collected during the 2013 season (10.37% germination at 2015) had a slightly higher percentage of germination than collected in 2012 (7.28% germination 2014). The area where it has obtained a higher percentage of germination was Rasquera with more than 14% success rate. Despite this increase in the rate of germination percentage is low when compared with the values ​​obtained with 30% of the seed from Valencia as the experience of CIEF. It not known the reason for this low germination in the Catalan case.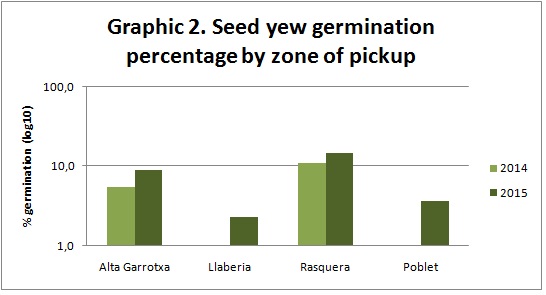 Moreover, it was observed that depending on the origin of the seed (crown of the tree, soil or animal feces) the successful of seed's germination is very different. Seeds from the feces have highest values ​​(80% germination) followed by those from the crown of trees (9%). The seeds from the soil are very low (3.7%) and only took the first year of harvest due to low overall fruiting occurred in that year.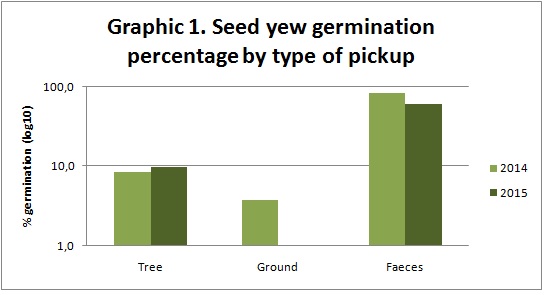 The low germination rate has determined that you can not reach the goal of obtaining 3,500 seedlings yew. To date we have 2365 viable seedlings. An small mortality is normal after germination and during the time spent at the seedling nursery. In the case of the plant germinated in 2014, there has been a 52% mortality after 16 months from germination, obtaining a total of 477 individuals in good condition and can be planted in autumn 2015. The seedlings germinated this spring (1888 seedlings) are very young seedlings need to spend some time in the nursery before being planted in the field. These seedlings, a total of 1888 seedlings will be planted in autumn 2016.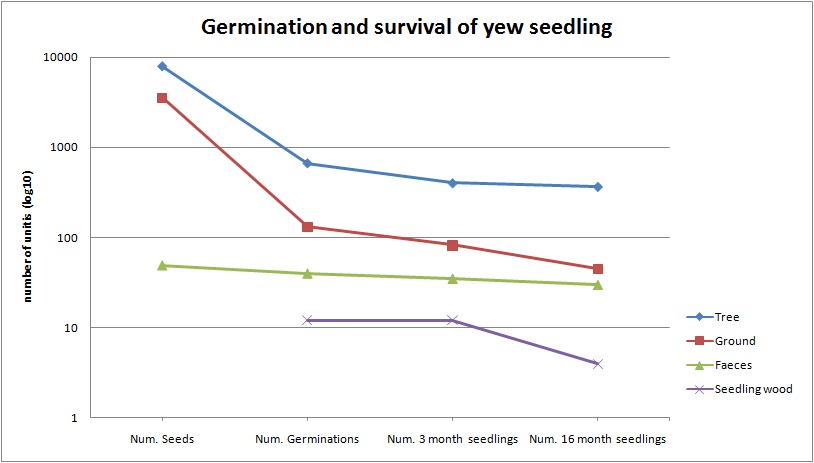 Entry filed under: Sense categoria. Tags: .